Certified Used Series III and Micromate® Units Available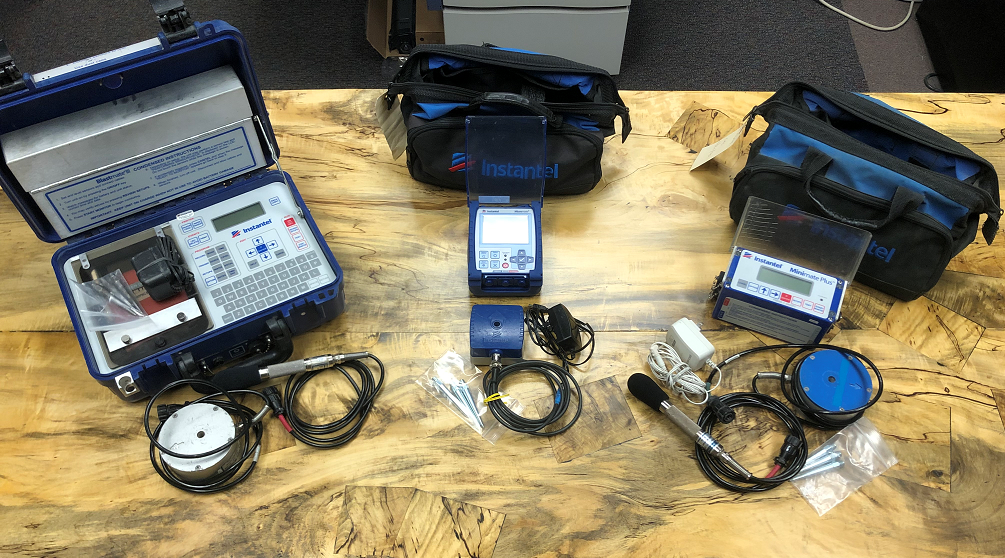 All used instrumentation sold complete and with a recent annual calibration. All used instruments and sensors include a one year warranty against defects in materials and workmanship when used normally in accordance with Instantel's published guidelines.
Why risk buying monitoring equipment from an online auction site that is potentially stolen property or has been drowned in a coastal flood? uWave only sells certified used instrumentation that has been calibrated and approved by the manufacturer.
Current Used Instrument List
| Model | S/N | P/N | Description | Price (taxes not included) |
| --- | --- | --- | --- | --- |
| Blastmate III™ | BA11087 | BMIII | Complete with ISEE geophone(2-250 Hz), geo spikes, Linear Microphone, mic stand, AC adapter | $ 5,199.95 |
| Blastmate III™ | BA12420 | BMIII | Complete with ISEE geophone(2-250 Hz), geo spikes, Linear Microphone, mic stand, AC adapter | $ 5,199.95 |
| Minimate Plus™ | BE19644 | MM+ | Complete with DIN geophone(1-315 Hz), geo spikes, Linear Microphone, mic stand, AC adapter and carrying case. | $ 3,994.95 |
| Minimate Plus™ | BE19645 | MM+ | Complete with DIN geophone(1-315 Hz), geo spikes, Linear Microphone, mic stand, AC adapter and carrying case. | $ 3,994.95 |
| Minimate Plus™ | BE19646 | MM+ | Complete with DIN geophone(1-315 Hz), geo spikes, Linear Microphone, mic stand, AC adapter and carrying case. | $ 3,994.95 |
| Minimate Plus™ | BE6723 | MM+ | 5M (Extra Memory) Complete with ISEE geophone(2-250 Hz), geo spikes, Linear Microphone, mic stand, AC adapter and carrying case. | $ 3,195.95 |
| Minimate Plus™ | BE10051 | MM+ | 5M (Extra Memory) Complete with ISEE geophone(2-250 Hz), geo spikes, Linear Microphone, mic stand, AC adapter and carrying case. | $ 3,295.95 |
Current Used Sensor List
| Model | S/N | P/N | Description | Price |
| --- | --- | --- | --- | --- |
| Low Level Geophone | BQ14900 | 714A8301 | Series III low level geophone. Range up to 0.1 in/s. Resolution 0.00000625 in/s. Requires Advanced Module. | $ 999.99 |
| Low Level Geophone | BQ14452 | 714A8301 | Series III low level geophone. Range up to 0.1 in/s. Resolution 0.00000625 in/s. Requires Advanced Module. | $ 999.99 |
| Linear Microphone | BH9785 | 714A9801 | Series III Linear Microphone 2-250 Hz. 88-148 dB (0.00029-0.0725 psi) with mic stand and wind screen. | $ 799.99 |
| Linear Microphone | BH10654 | 714A9801 | Series III Linear Microphone 2-250 Hz. 88-148 dB (0.00029-0.0725 psi) with mic stand and wind screen. | $ 799.99 |