Certified Used Series III, Micromate® and Minimate Pro4™ Units Available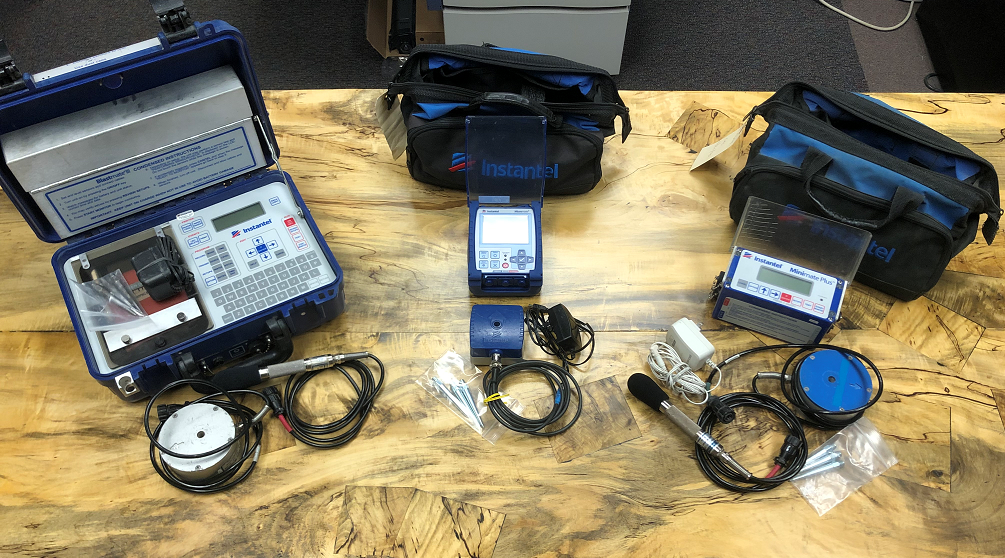 All used instrumentation sold complete and with a recent annual calibration. All used instruments and sensors include a one year warranty against defects in materials and workmanship when used normally in accordance with Instantel's published guidelines.
Why risk buying monitoring equipment from a stranger online that is potentially stolen property or has been drowned in a coastal flood or hurricane? We only sell certified used instrumenation that has been calibrated and approved by the manufacturer.
Current Used Instrument List
| Model | S/N | P/N | Description | Price (taxes not included) |
| --- | --- | --- | --- | --- |
| Blastmate III™ | BA10185 | BMIII | Complete with ISEE geophone(2-250 Hz), geo spikes, Linear Microphone, mic stand, AC adapter. | $ 5,199.95 |
| Blastmate III™ | BA11087 | BMIII | Complete with ISEE geophone(2-250 Hz), geo spikes, Linear Microphone, mic stand, AC adapter | $ 5,199.95 |
| Minimate Plus™ | BE19644 | MM+ | Complete with DIN geophone(1-315 Hz), geo spikes, Linear Microphone, mic stand, AC adapter and carrying case. | $ 3,994.95 |
| Minimate Plus™ | BE19645 | MM+ | Complete with DIN geophone(1-315 Hz), geo spikes, Linear Microphone, mic stand, AC adapter and carrying case. | $ 3,994.95 |
| Micromate® | UM6054 | MM+ | Complete with ISEE geophone(2-250 Hz), geo spikes, quick ref. guide,AC adapter and carrying case. | $ 4,500.00 |
| Micromate® | UM6071 | MM+ | Complete with ISEE geophone(2-250 Hz), geo spikes, quick ref. guide,AC adapter and carrying case. | SOLD |
Current Used Sensor List
| Model | S/N | P/N | Description | Price |
| --- | --- | --- | --- | --- |
| Low Level Geophone | BQ14900 | 714A8301 | Series III low level geophone. Range up to 0.1 in/s. Resolution 0.00000625 in/s. Requires Advanced Module. | $ 999.99 |
| Low Level Geophone | BQ14452 | 714A8301 | Series III low level geophone. Range up to 0.1 in/s. Resolution 0.00000625 in/s. Requires Advanced Module. | $ 999.99 |
| Linear Microphone | BH9785 | 714A9801 | Series III Linear Microphone 2-250 Hz. 88-148 dB (0.00029-0.0725 psi) with mic stand and wind screen. | $ 799.99 |
| Linear Microphone | BH10654 | 714A9801 | Series III Linear Microphone 2-250 Hz. 88-148 dB (0.00029-0.0725 psi) with mic stand and wind screen. | $ 799.99 |